PRIVATE DINING & EVENT PLANNING
Thank you for considering Solstice Restaurant & Wine Bar™ for your event. At Solstice we believe great food & celebration go hand-in-hand. We will make every effort to insure your event is one to remember. All of the meals that we prepare for large groups are prepared and presented the same way we do for our regular dining. All of the meals are prepared to order by our trained and experienced kitchen team at Solstice Restaurant & Wine Bar™ it is the perfect venue to host Life Celebrations like Baptisms, Communions, Confirmations, Birthdays and Anniversaries. As well as business and corporate functions like team building dinners, meetings and presentations. We have some prepared Sample Menus that have been designed as a guideline to help you through the planning process. These menus are designed for large groups in mind. If you don't see something that you are looking for please contact us and we can work with you to prepare the perfect menu.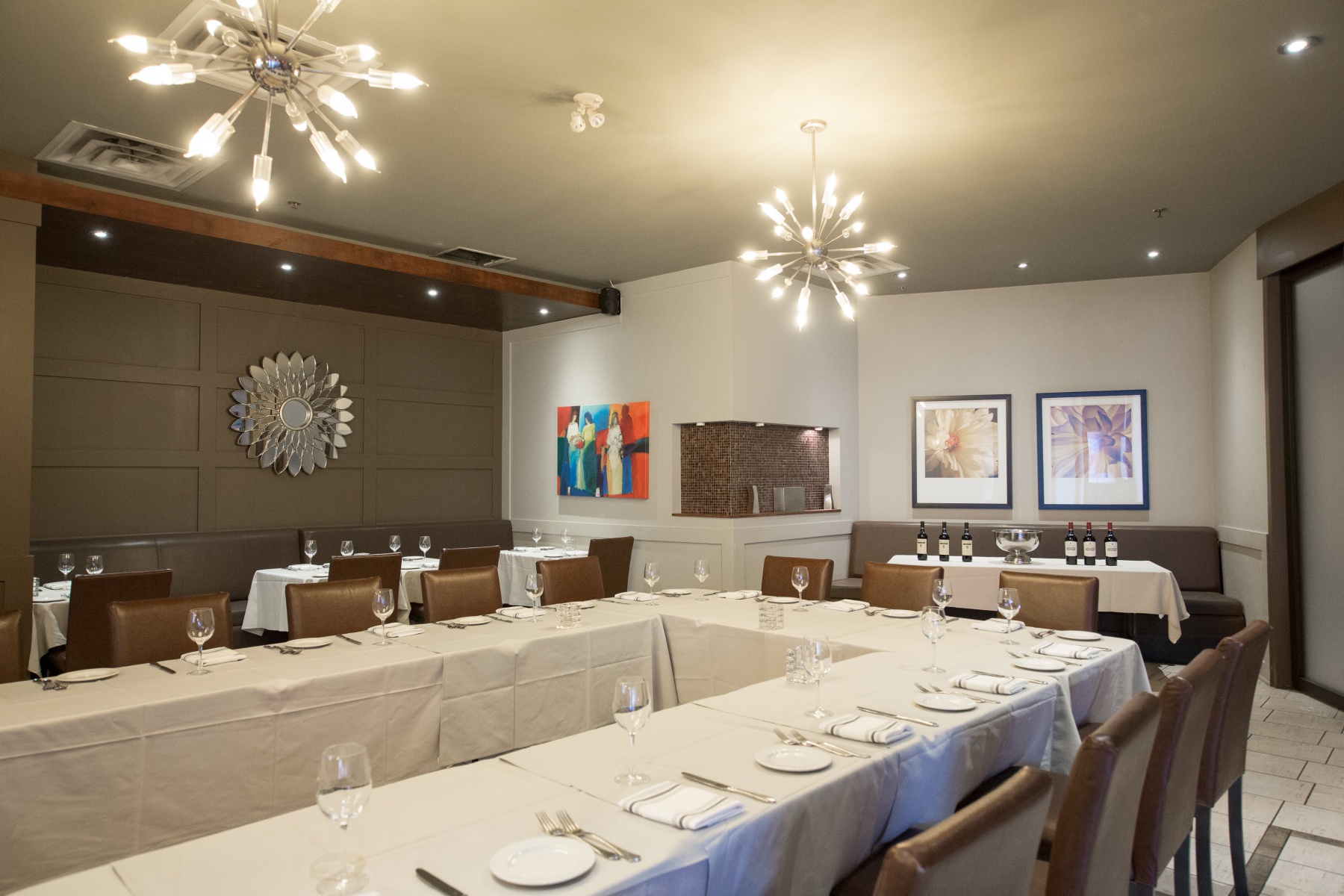 Lunch Event
click to see menu
Anniversary & Birthday
click to see menu
Cocktail Reception
click to see menu
Celebration of life
click to see menu
Baptism/Communion/Confirmation
click to see menu
Baby/Bridal shower
click to see menu
Meetings & corporate events
click to see menu
Wedding
click to see menu
Retirement
click to see menu
Custom Events
click to see menu
Private room
Our spacious private room can accommodate up to 95 guests seated. The space can be configured many different ways to seat your guests. Our Private Room can be booked for groups of 50 to 95 people.
WINE BAR
Our wine bar is an ideal space for groups of 12 to 28 guests. The central location of the area is ideal for casual & formal receptions.
Frequently Asked
Here are some common questions about Elegant Studio.
When can your private or semi private areas be booked?
Our facilities can be used 7 days a week for Lunch or Dinner Service. Breakfast is also available. Please contact us directly for more details.
How many people can you accommodate?
Our restaurant can seat over 160 people for one event and can contain a private party for up to 95 people in our private room. 45 people in our semi private elevation and 25 people in our wine bar. We can also offer stand up cocktail style receptions for up to 175 guests.
What is the minimum number of guests to book your private/semi private rooms?
Our Private Room can be booked for groups of 50 to 95 people. Our Semi Private Elevation can be booked for 25 to 45 people. And the Wine Bar from 12 to 25 people. A combination of the Private Room and Wine Bar is also possible, that can accommodate 120 guests. In some cases we are able to offer the spaces for smaller groups. Please contact us for more details.
Is a deposit required to book an event?
An initial deposit of $250 is required to secure the booking. Deposits are payable by Cheque, Cash, Debit Card or Credit Card. The Balance is paid at the end of the event. The Deposit is nonrefundable if the event is canceled less the 30 days prior to the event.
How long in advance should I book my event?
The sooner you know the date the better. Dates fill up very quickly during certain times of the year.
When are the final number of guests required?
The Final and Guaranteed number of guests is Required 1 week prior to the event. You will be billed for the guaranteed number given or the actual number of guests that show; whichever is greater.ed.
Do you supply A/V equipment?
If you require any AV we can make arrangements for you to suit your needs. Charges will be added to your bill.
Are you wheelchair accessible?
What type of events do you cater to?
We cater to every type of event imaginable. We specialize in corporate parties as well as family events such as Weddings, Communions, Baptisms, Confirmations, Birthdays and Anniversaries. We can do a full service sit down meal or a classy Cocktail Reception. We are also always open to assist you with the perfect party. So if you have a unique idea please contact us we welcome the challenge.
Is it possible to book out the whole restaurant?
Yes it is possible. We require a minimum of 125 people.
Is there a charge to use the space?
There is no charge for use of the space if the minimum are met.
How are the menus created for my event?
All menus for Private Functions are Pre-Set based on your selections. The Menus are based on samples that we have designed and can be customized to suit your specific tastes and needs. We also provide a custom menu for your event if are offering your guests a choice for their meal. The Menu can be customized with a Company Logo or a Special Message for the Guest of Honour.
Can I bring my own cake?
Yes. We will gladly serve and Plate your Cake for you. There is No charge to do so if a full sit down meal is served.
Is parking available?
Yes. Parking is complimentary and on site.
Do you offer a children's menu?
Yes. Please let us know at the time of booking and we will work with you to create a Children Friendly alternative and just like the adult meals the same care and quality goes in to theirs.
Can I bring decorations?
Yes. But please no confetti or tacks in the walls.